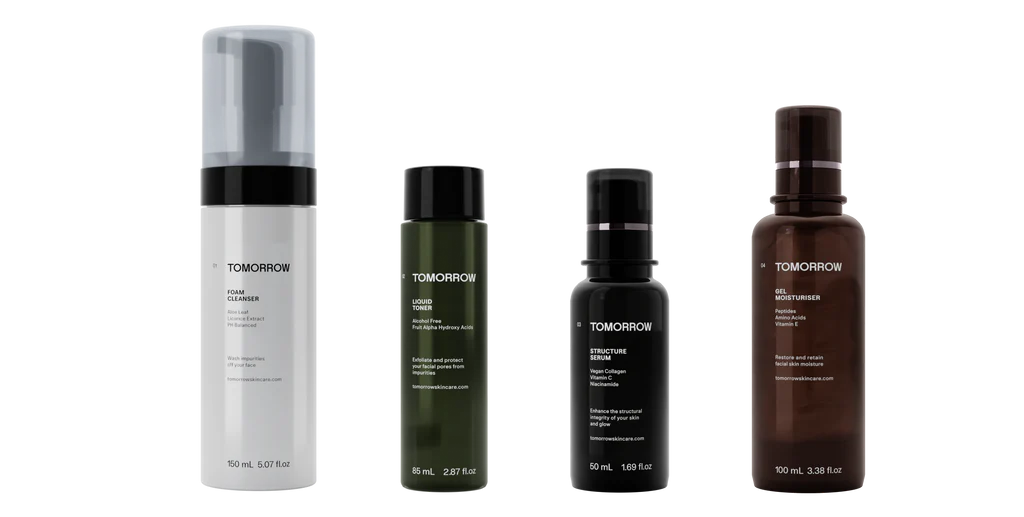 Morning Skincare Essentials
2 minute read
The best way to start your day off right is with a good skincare routine. This can leave you feeling refreshed, energised, and ready to tackle the events of your day. However, many men can become a little confused as to what they should use in their morning skincare routine. Don't worry, Tomorrow has you covered. In this latest update from your skin experts, we will be sharing the morning skincare essentials that you need to include in your morning skincare routine.
Start With A Cleanser
Cleansing your face is a great way to start the day, leaving you feeling refreshed, clean and energised. Facial cleansers help to clean out your pores, preventing acne and other blemishes from developing. Add a cleanser to your morning skincare routine to start taking better care of your skin. Click here to check out our foam cleanser on our website.
Always Use A Moisturiser
Moisturisers are an important part of any skincare routine. This is because they prevent your skin from drying out throughout the day. Moisturisers can also replenish your skin's supply of antioxidants, helping you to stay protected better from sunlight, stress, and pollution.
Exfoliate & Protect Your Pores
As you get ready to go about your day, you need to make sure your pores are ready. Throughout the day, the environment can cause damage to your pores through sunlight, pollutants and dirt. Fortunately, you can keep your pores protected with a liquid toner, just like the one we have at Tomorrow. With a liquid toner, you can exfoliate your skin, clean your pores and create an invisible layer to protect your pores from dirt, excess oil, and environmental pollutants. You can find out more about how a liquid toner can improve your morning skincare routine on our website here.
Enrich Your Skin
Your skin needs a variety of vitamins and minerals to stay healthy. We often don't get enough of these vitamins and minerals in our diet, which can accelerate ageing and wrinkles. Using structure serum can solve this problem in your morning skincare routine. With our structure serum, you can provide your skin with Vitamin C, niacinamide, and vegan collagen. All of these vitamins and minerals help to enhance your skin's protective surface barrier function and make your skin glow. Click here if you would like to find out more about our structure serum and the benefits it can provide to your skin as part of our morning skincare routine.
Level Up Your Morning Routine With Tomorrow
At Tomorrow, we have everything you need for the perfect morning skincare routine. Visit our website today and shop our range of men's skincare products, including our foam cleanser, liquid toner, structure serum, and Gel Moisturiser. You can also browse answers to our frequently asked questions here. We have the morning skincare essentials you need to keep your skinning glowing and healthy.
Stay Updated With Tomorrow Skincare
Don't forget to follow us on Instagram, Twitter, TikTok, and Facebook to see the latest updates from Tomorrow.
Why You Should Use A Liquid Toner
5 Foods That Improve Your Skin